---
Send a message to our troups
Operation Dear Abby gives you a chance to thank the brave men and women of our military. Agree or disagree with why they are in harms way, they need to know we appreciate them.
'05 Ram

---
It took forever to get this truck. I wanted to order one with a sun roof but by the time those went off restriction the six speed was not available. I had Buchanan Dodge locate a Cummins diesel with a 6 speed manual.
Review | Bed Liner | Power Step | Power Rear Window | Sun Roof
Review

---
Economy My truck averaged 20.5 MPG of diesel over the first 24K. Now I don't drive like Ryan Newman. Also, I rarely travel to populated areas as I'm anti-social, so all of this driving was done on back roads and highways. As an experiment, I drove to Detroit mostly on back roads and the return trip on the highway. The difference was about 3 MPG. From a fuel economy stand point, this truck needs another gear to be economical for highway driving. I would like to add a Gear Vendors OD unit but I figure it will take a lot of driving to break even.
So far the truck has required no repairs that were not covered by the warranty. The maintenance was fairly expensive. Because I need to do more short trips than the average bear, I change the engine oil and filter more frequently than required. The dealer is fairly inexpensive for most of the maintenance tasks except fluid changes. My local mechanics can beat the dealer by 1/2 or 1/3 as well as turn the job around much faster. Watch the dealer. If you take your vehicle in for maintenance, they just assume you want an oil change. Make it clear you do not or they will do one. I also increased the number of tire rotations as my experience with 4X4s has shown this to be a good investment. I have had to pay for these as my shoulder does not allow me to move tires easily. Overall, the maintenance is expensive but about what I estimated. This is not a cheap vehicle to run. Take a look at the maintenance log before you buy.
Reliability My truck had 2 quality related problems. The passenger dash vent cracked in the winter and was replaced under warranty. The drivers door weatherstrip came loose about the same time. The dealer replaced the weatherstrip on both drivers side doors under warranty. I had to make multiple trips for these repairs as the parts were not stocked nor was their installation coordinated. To soften the blow of the multiple trips, the dealer gave me a loaner car even though I didn't buy the truck there (a plug for Hoffman Dodge).
I am quite pleased with the reliability of the truck. Not a single mechanical problem in the first two years and it still drives like it did when I bought it.
Performance You will not confuse a CTD with a sports car. Especially if you have the NV5600 6 speed. The truck is not exactly quick but it can run when it needs to. I have yet to find myself in a situation when I need to accelerate and the truck won't comply. That is saying something for a 6000# vehicle. Being a car guy at heart, the handling is better than expected but not much more. There is only so much you can do for an eight foot tall truck. Additionally, this thing has great brakes. I never thought something this big and heavy could stop so well.
Function - I used the truck as a truck about a quarter of the time. It works well in that capacity but the height is a draw back for some tasks. Unloading is easy but loading can be tough so make the kid at the home center do it. I have only needed the 4 wheel drive a couple times. It works well for towing cars out of mud and for driving on icy roads. I have yet to do any real off roading. All in all, this truck is more capable than I really need. I have never been able to load it anywhere near it's limits for around the house projects.
Toys I bought a loaded truck because I tend to keep a vehicle for a long time and those nice to haves tend to become commonplace with time. The UConnect hands free feature has been quite handy. It took a while to find a phone that was cheap and worked with Blue Tooth but now I'm sold. I wish I would have had the power pedals. I have long legs and short arms so I fit funny in most vehicles. The folding rear seat with the storage and folding floor is nice but groceries can fall against the door and make unloading tough. Oh yeah, get the heated seats.
Overall I like the truck but have a hard time justifying it. I probably would have been better off with a half ton with a smaller diesel engine (there is nothing like that on the market, although there are rumors). It is nice to be able to haul anything you need but for that once or twice a year situation this is a lot of truck. When I start hauling more heavy loads, we'll see if my attitude changes.
Bed Liner

---
I chose to have a Line-X bed liner sprayed in the bed. There are many companies offering this type of product. I use my truck for hauling building supplies and auto parts. The Line-X liner seemed to fit this application best. It seems harder than the other brands. This has worked better than I thought and has made the bed far more usable. I would do this again in a heart beat.
Power Step

---
It is hard to get in and out of the truck as it comes from the factory. To make it easier, I installed an AMP Power Step. This was not a hard project and I managed to complete it in an afternoon. One of the arms was cracked in shipping (see the picture below). I managed to make it work until I could get a replacement by using a large hose clamp.
They have a cool factor that gets attention but they tend to trap dirt. I open the doors and remove the fuse before I wash the truck. The finish is not holding up as well as I hoped and the drivers motor is making bad sounds. They are still working well.
I did have a problem after the step was in for a while. I installed them per the instructions but about a month later, the turn signals became erratic. At first the diagnosis was a bad multi-function switch. It seems it is fairly common for these to fail. The switch was fine. It turns out the wiring harness for the steps was too close to the dash wiring and needed to be moved and shielded better. Hoffman Dodge diagnosed the problem and rerouted the wiring for a nominal fee. I feel I got off cheap as the debug time for this took a while and I caused the problem. Lesson learned. Keep accessory wiring away from existing wires. The low voltage signals are easily disturbed.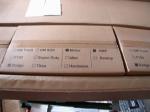 Notice the broken arm despite the packaging
Power Rear Window

---
I keep seeing the wide power rear windows on the Nissan Titans and wish I could have one. Opening and closing the rear window for the dog or for ventilation is something I do several times a trip. The quad cab is a bit long to reach from the drivers seat and climbing in the back seat to open and close it gets old fast. The closest thing I could find was a Power Slider from C R Laurence. It moves to the driver's side instead of the passenger's side like the original. I still wish it would drop straight down and a defroster would be a nice feature. The current location of the switch is not convenient; I'll probably move it when I figure out where I want it. Auto Trim Design of Mid-Maryland did the installation.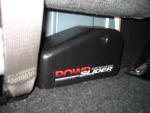 Sun Roof

---
I tried to order this truck with a sun roof but the options I wanted were supposedly available together but the order was never accepted. I settled on an aftermarket sunroof from Webasco. I had a lot of trepidation over this but the sun roof was the major hold up in buying the truck in the first place. In addition to popping up for ventilation, the glass panel can retract into the roof. Auto Trim Design of Mid-Maryland did the installation.